Have you wondered why many people are willing to spend big money for a luxury massage chair?
It is true that a massage chair can possess one or some of the features below, but not many possess all of these advanced features. A massage chair that goes beyond your expectations is the best luxury massage chair you can ever buy.
In the past, massage chairs were very basic and only offered a few different functions. This is the reason why they were never seen to be something of luxury or value.
Now, that has all changed with the advancement of technology as well as the innovation of engineers and designers, putting health and wellness at the forefront through the development of luxury massage chairs.
Many people believe that a massage is more beneficial when a human does it, and this is mainly due to the misconception that a massage chair just rolls up and down your spine with nothing else to offer.
A luxury massage chair can offer you the flexibility to get treatment and relaxation on your own time, from your own home, with some of the best features to bring out the benefits of massage.
Let's take a look at the different features that differentiate a luxury massage chair from the standard entry-level models on the market.
Standout Luxury Massage Chair Features
There is little better than coming home from a long day and having the chance to relax and get a massage to melt the stresses of the day away.
That is something wholly possible when you have one of the best massage chairs at your disposal.
There are five main elements that make owning a luxury massage chair one of the best decisions you've ever made.
1. Human-Like Massage Experience (HMLE)
Instead of traveling to a massage studio and paying for the service there on a regular basis, you can simply enjoy the same (or even a much better) experience with a luxury massage chair right in your own home.
A luxury massage chair will provide you with extreme joy and comfort, stemming from the comfort of real leather, spa heating, HLME mechanisms and a combination of state-of-the art technology designed for relief and relaxation.
For Instance, Dr.Care high-end luxury massage chairs' best-selling models offer up to 8 punchers, which is the equivalent of four professional massage technicians, all just for you.
With the capacity to connect via Bluetooth and play soothing and serene music, you can light your favorite scented candles, sink yourself right into a Dr. Care's luxury massage chair in your own home and enjoy relaxation, stress relief, and enhanced wellness.
2. Effective Medical Therapy
This has been proven time and time again since massage chairs first made their way into the market.
Dr.Care is one of the top massage chair companies, providing health and wellness through massage for over 20 years. Dr.Care luxury massage chairs will be your companion in treating many health issues as well as helping you to avoid them.
Every day, more and more people around the globe suffer from stress, insomnia, headaches, backaches, spinal problems, high blood pressure, poor circulation, and more. A good massage chair can target those issues and assist in alleviating them.
Experience Health and Wellness Results
Not only that, using a massage chair regularly can also help to prevent strokes, enhance blood circulation, increase lung capacity, among other things.
3. High-Quality Materials and Equipment
The word luxury is normally synonymous with quality, and that's exactly what you can expect with a luxury massage chair.
Each item and piece of equipment that a luxury massage chair is comprised of goes through a rigorous and innovative development process, just as a luxury car would.
For example, at Dr.Care, designers and engineers create luxury massage chairs with seats that are made with real, authentic leather imported from the UK. This leather has been selected from the cream of the crop, with durability exceeding 30 years.
Another example is the exterior paint and coating. Take Dr. Care's top massage chairs like the Space Ship Massage Chair, SS 919X, for instance.
The 919X is painted meticulously by experts using a 6-layer coating technology. It takes 7 days to paint each chair before the polishing stage.
This process can be compared with the process of painting famous luxury cars such as Rolls Royce and Lamborghini.
4. The Most Advanced Technology and Features
Besides a flashy appearance, what features can you expect from a luxury massage chair?
Some of the top features include:
Full-body spa heating
Zero gravity functions
Intelligent body scan to pinpoint your exact form
Voice command
Control with a built-in remote as well as a touchscreen tablet
Mobile phone control
Wireless bluetooth speakers
3D, 4D, 5D, or 6D massage mechanisms
A range of preset programs designed for different pain points
Airbag massage
Calf massager
You can find all of those features and more combined in a single Dr.Care massage chair, making it one of the most sophisticated on the market.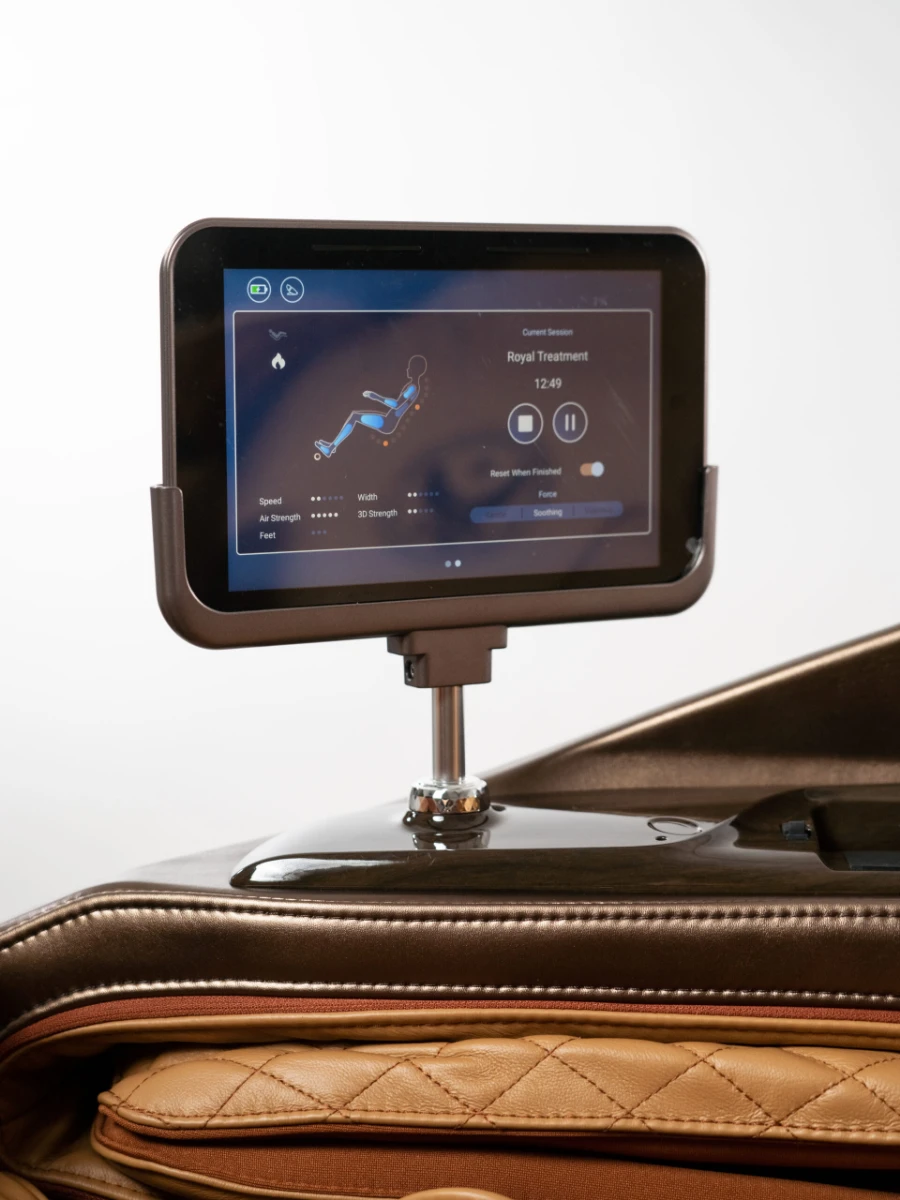 If you are curious which massage chair model possesses all of the features you're looking for, contact Dr. Care – we will not only give you an exact consultation, but also a 30-day trial of any chair you choose in the comfort of your own home.
Why?
We respect your experience and we would love for you to have enough time to enjoy all of the features before making a purchase decision.
5. Flexible Payment Options
Browsing the selection of luxury massage chairs may have you disappointed, thinking that the cost is just out of your price range. Don't be thwarted by the luxury massage chair price that seems out of reach.
The good news is that companies like Dr.Care are here to help, offering flexible payment options and financing to get you in the chair of your dreams.
With a custom financing program that starts below $100/month, you can enjoy more relaxation and health for just a few dollars a day. This is no doubt less than you'd spend on costly massage appointments and treatments, and you can enjoy a full body massage with much more frequency.
Don't miss out on this chance to take care of you and your family's wellness – please, don't wait until it's too late to invest in your health.
At Dr. Care, we are passionate about providing the best customer journey, from before purchase to long after purchase. We know our dear customers have plenty of options out there, and we take pride in being the trusted massage chair provider for more than 20 years.
What Luxury Massage Chair Brand is Best?
There are many different massage chairs out there, and you may be wondering, what is the best full body massage chair?
While you may see an Osaki massage chair or a Costco massage chair that catches your eye, they simply can't be compared to the best high-end massage chair offered by Dr.Care International.
The features that are offered by Dr.Care are designed and branded by our team of design experts, setting our chairs apart from the competition and offering you a one-of-a-kind experience that can't be matched by generic chair designs.
Feel the difference with a 30-day trial in your own home – we are confident that you will notice the difference as soon as you hit the Power button!
Conclusion: Luxury Massage Chairs Offer a World of Benefits
There are plenty of different massage chairs on the market today, but not all of them have your best interest in mind. Many brands manufacture chairs that are subpar, using the bare minimum in terms of features and materials.
A luxury massage chair is an investment into your health and wellness, and because of the high quality that you'll get when you buy from a company like Dr.Care, this chair will be your companion for years and years to come.
The average lifespan of a Dr.Care massage chair is up to 30 years, and with a 10-year warranty, you can rest assured that this chair will be taking care of you well into the future.