Massage chairs have continued to increase in popularity due to innovative technology, a need for relaxation, and an interest in health and wellness. 
After all, who doesn't want to come home from a long day and unwind with a quick massage that you can control yourself? 
With the increased popularity of massage chairs has also come a wide range of options to choose from, so there's a lot to think about when you're shopping for a massage chair, including: 
What do you need the massage chair to do for you? 
Where are your pain points?
What massage chair features do you want? 
What type(s) of massage techniques do you enjoy? 
Where will your chair need to fit? 
What's your budget? 
All of this and more can help you find exactly what you need to relax on the daily, and in this article we'll go into more detail about the 12 things you should always look for when buying a massage chair, whether or not it's your first time!
Let's jump in.
1. Massage Functions
There are endless options when it comes to massage chairs, and ultimately, low-end massage chairs will offer limited functions, typically only simple vibrations and a rolling massage option.
Many low-end massage chairs have prices that would make anyone jump up at the great value, but keep in mind, you get what you pay for.
While it may seem like a better deal upfront, unfortunately these rarely reach the lifespan of a recliner, and certainly won't contribute to your spine health, or get you to relax.
When you need to relieve pressure, get relief for your feet, arms, legs, or any other part of your body, the best massage chairs will be exactly the solution you've been searching for.
If you're in the market for comprehensive massage chair options, high-end massage chairs will provide you with many more features that will target multiple pain points, offering you a much more relaxing, rejuvenating experience.
Some features of luxury massage chairs typically include: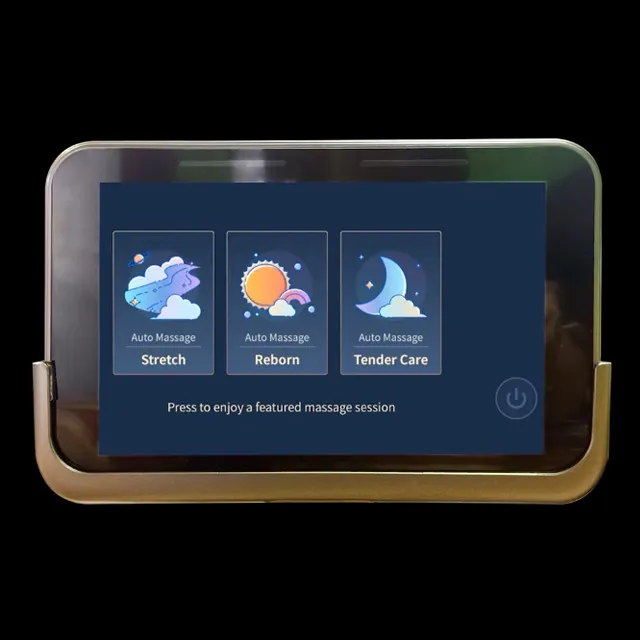 Extensive menu of massage presets
2D, 3D, 4D, 5D, or 6D roller intensity: this refers to the capability of the massage mechanism and how humanlike the massage experience will be
Spa heating
Foot rollers and foot compression
Full body and partial body airbags
Rolling
Shiatsu
Tapping
Vibration
Kneading
Bluetooth speakers for sound therapy
Zero gravity positions
Full-body stretching
Aesthetically-pleasing design
Calf massage
Wireless phone charging
Manual massage options
Customized massage memory settings
Multiple language options
The cost of the massage chair is typically directly related to the number and caliber of these functions, which can be a bit overwhelming for the buyer.
That said, a massage chair offering comprehensive features will allow you to prioritize your health in a much more cost-effective way than regular masseuse appointments! 
You can recline, relax, and get a comprehensive massage from head to toe right from the comfort of your own home. While it may seem a bit expensive when shopping around, it's a true investment in your health over time.
2. Massage Roller Track
The worst thing that can happen when buying a massage chair is hoping it will get all the way up to the nape of your neck and realizing it stops at your shoulders!
Understanding the massage roller track will make sure you don't miss out on any pain points or areas of the body that you'd really like to target. Most high-end massage chairs will give you a comprehensive massage due to the track system.
There are a few type of massage tracks currently used in most chairs: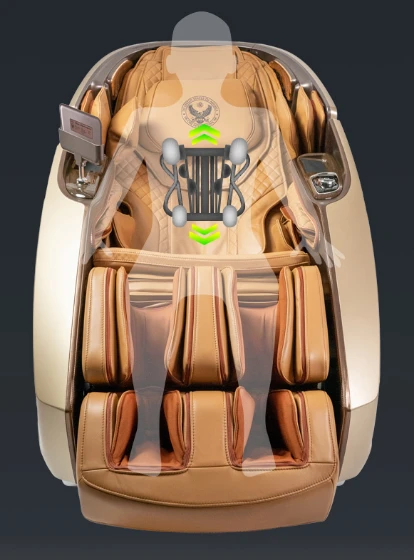 S Track Massage: If you imagine an S shape, that is what you're going to get with an S Track massage chair. It will hug the curves of your spine from the neck down to the lumbar region, but it won't go any further.
L Track Massage: The L track looks just as an L does, which means that you're going to get a more lengthy massage that goes all the way through the gluteal region of your body. This is an extension of the S track, making it the longest track on the market today. If you want a full body massage, your best bet is to get at the minimum an L track chair. That way, you're sure to hit the lumbar area and even the glutes.
SL Track Massage: The great news is that there are massage chairs out there, such as the Dr.Care massage chair line, that offer a dual massage track system, the SL track massage. This combines both S track and L tracks to offer a massage that can target different areas of your body at the same time.
Roller Intensity
Roller intensity is also another thing you want to consider. The track is what helps to move the rollers, but how strong the massage rollers are will also play a part in distinguishing a good massage chair from a run-of-the-mill one.
When you have control of how intense the massage is, you will be able to get the pressure you need, which is what you'd get if you went to a massage session. You can even control the intensity of the feet rollers.
If you have a condition such as chronic back pain, it's good to know that a premium massage chair will let you tailor your massage intensity.
The 929x massage chair from Dr.Care offers not only manual roller intensity selections, but you can also decide how strong you want the preset massage programs to be, with three different strength options.
This unique feature is also found in the Space Ship Massage Chair 919x, 923, 967, and 966 massage chairs from Dr.Care. These chairs will give you ultimate control over your massage session.
Many other massage chairs will offer limited options in terms of strength and speed control, and that's because they don't offer 4D massage functionality.
Both in the automatic programs and manual programs with Dr.Care, you'll be able to have control over what you feel and what your massaging chair does for you.
Massage rollers can also vary in strength depending on the different massage styles available on the chair. You'll certainly find that a deep tissue massage is going to give you a stronger feel than a simple tapping motion.
3. Massage Airbags
Massage airbags are imperative if you're looking for impactful relief from tension, poor circulation, and relief.
How do massage airbags work, you may ask?
Pressurized air is distributed to small pouches located throughout the massage chair, typically on your sides, legs, arms, shoulders, and thighs. It's not uncommon for the best massage chair to have numerous airbags within the system, at locations including:
Inside the seat
On the sides of the chair 
In the foot ottoman 
In the calf massager 
In the backrest
In the head and neck area
At the shoulders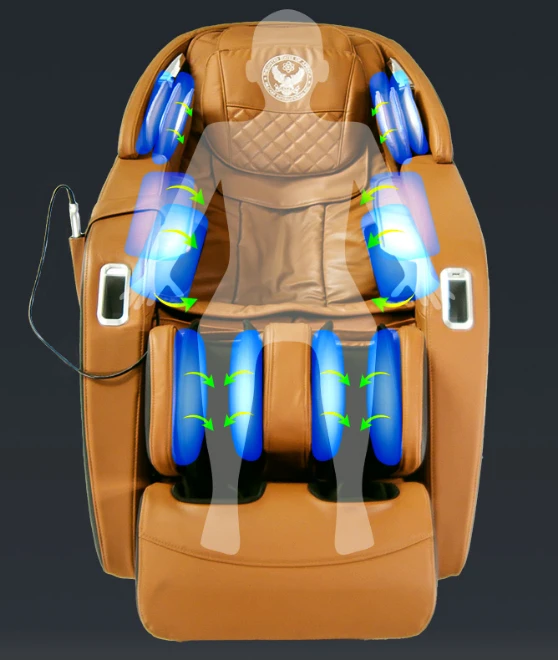 The air bags inflate, which compresses your muscles, relieving pain and soreness. When combined with the roller system of your massage chair, this offers an incredible sensation that makes you truly feel that you are at the spa. 
Not only that, sophisticated massage chairs such as the DR-XR 929 or DR-SS Space ship Massage Chair 919x from Dr.Care will use these air bags with an alternated rhythm and massage your calves in a motion that mimics a human. The innovation is cutting-edge.
It doesn't get much better than that! If you suffer from stiffness or soreness, these chairs can provide relief without having to take a trip to a massage center. 
The amount of airbags will depend on what kind of massage chair you purchase. Premium massage chairs or advanced massage chairs will certainly offer you more features and ultimate relaxation through compression airbag therapy.
Benefits of Compression 
Compression therapy can help you to increase blood flow throughout your body and improve circulation. This is especially beneficial for those that have specific conditions that may limit flow, such as neuropathy or diabetes. 
It will help to support your veins, decrease swelling, as well as improve blood flow to your heart. Having a massage chair that can do this for you will not only alleviate stress but ensure that you are investing in your long-term health. 
Thus, the airbags offered in many massage chairs will help to provide you with therapeutic benefits as well as a variety of massage settings.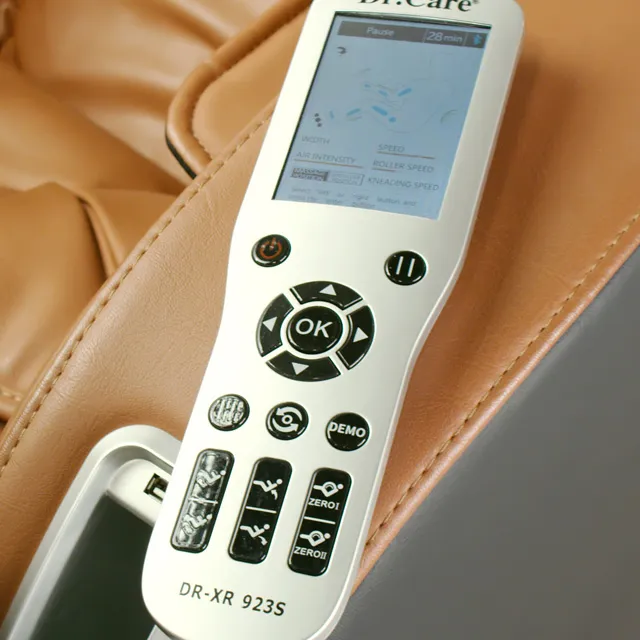 4. Massage Options and Programs
Massage programs are an important part of choosing the best massage chair because you may not want to have to do the work to set up your own massage– perhaps you want to simply sit down and choose something amazing.
The great thing about most top massage chairs is that they include various preset massage options, giving you a predesigned timed massage that will target different pain points and areas of the body all at once.
At the end of a long day, sitting down in your chair and turning on the Easy Sleep program from Dr.Care is a little slice of heaven. No fumbling with buttons, no resetting– just sit down and enjoy.
There are other massage programs that target your neck and shoulders, provide you with a full body stretch, help you recover from fatigue, relieve pain, and much more.
When choosing your chair, make sure to test out these programmed options so that you're getting exactly what you need.
It's always good to have the option for manual controls as well, especially if you want to customize your massage. All Dr.Care massage chairs offer a wide range of preset massage programs in addition to manual controls, providing you a unique experience every single time.
5. Heat Therapy 
Don't bother with massage chairs that don't have heat therapy. Infrared heat helps give you the most effective massage by improving your circulation, relaxing your muscles, and releasing toxins. 
Heat therapy can also assist with inflammation, joint/muscle stiffness, arthritis, and deep tissue pain, relaxing your muscles and easing pain with each massage therapy session. 
The best massage chairs, such as the complete line of Dr.Care, will offer you full body heating that you can either turn off, or keep on the upper or lower body as needed. The heated massage will reach all the way from your toes to the headrest– there's nothing like it! 
Many massage chairs come with some type of heating feature, but not all can give you a deep heated massage like you can find with Dr.Care. Even a gravity massage chair can offer heating, combining many of the best features to create the perfect chair!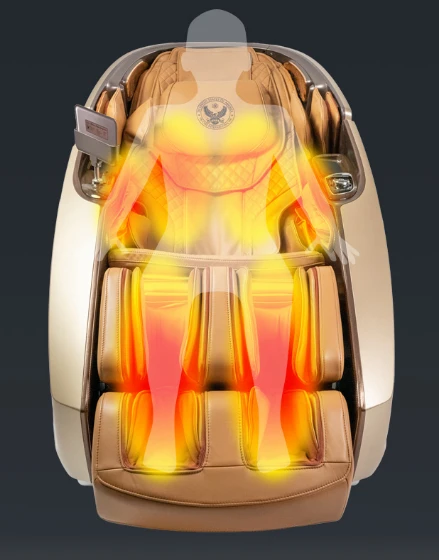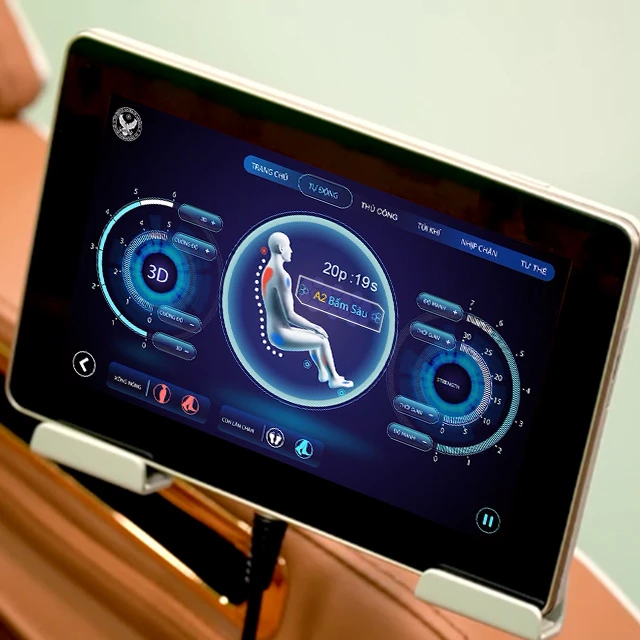 6. Massage Areas
When we think of a massage, we often just think of the back. But did you know that getting a full-body massage goes way beyond that? 
Sometimes we forget about just how much all areas of our body needs attention, including areas like our forearms, wrists, calves, hips, hamstrings, and feet. A quality massage chair will be able to reach all of these areas effortlessly. 
This includes using airbags, massage heads, and rollers throughout the chair. The thing that sets Dr.Care apart from the rest is that it focuses on providing a human-like massage experience, HLME, through a massage head that will mimic the touch of a real masseur. 
A true massage recliner will be able to target any and all pain points that you have throughout your body, so make sure that you find one that is comprehensive!
7. Zero Gravity Massage
There's nothing quite like feeling weightless, and few opportunities in life can offer us this sensation. With a zero gravity massage chair, you can let go of your worries with the zero gravity function.
Advanced massage chairs will offer the normal chair positions as well as a zero gravity 1 setting and zero gravity 2 setting. This can be selected and applied to any massage that the chair offers.
Using the zero gravity position also has various health benefits, including lowering your heart rate, improving circulation, and reducing tension. You'll be able to boost relaxation and get a deeper massage experience at the touch of a button with Dr.Care massage chairs.
Not all massage chairs come with a zero gravity feature, so it's important to keep your eye out for it, especially if you're buying your first massage chair.
There is nothing like a zero gravity chair– it is a completely unique sensation, and one of the best features you'll find in current-day massage chairs.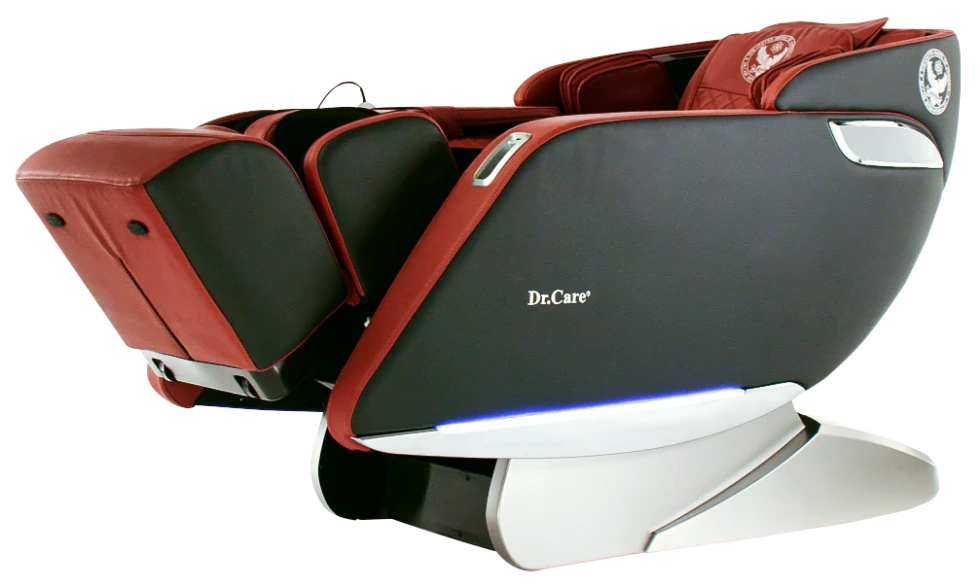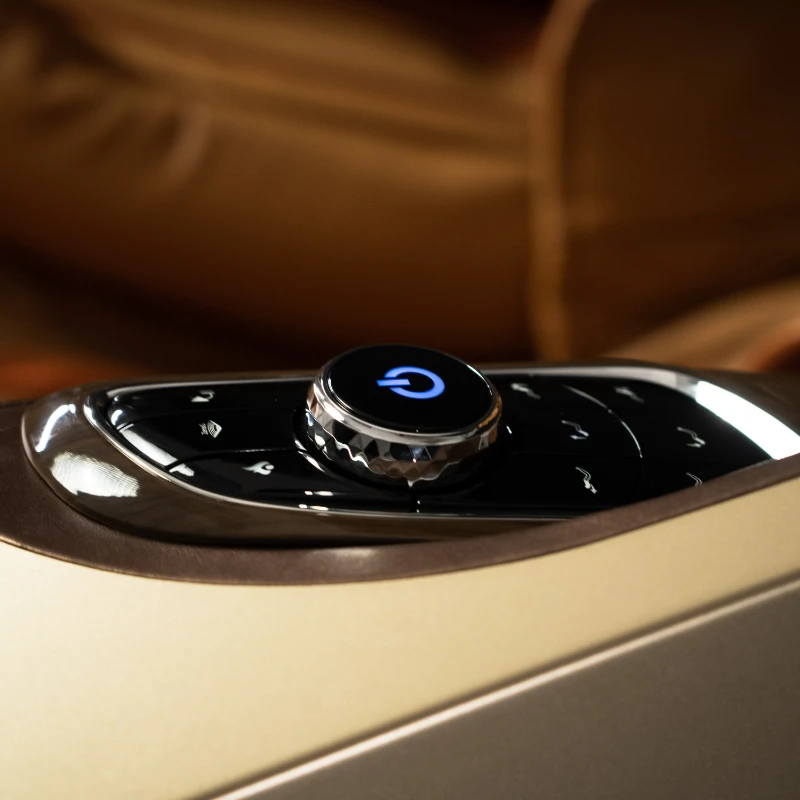 8. Stretching Features
Typically when you relax in a massage chair, you don't consider the possibility of being stretched from head to toe. Fortunately, with the most advanced technology through zero gravity, your whole body can be stretched.
The yoga stretching function offered by Dr.Care massage chairs allows your whole body to feel relief through state-of-the-art stretching movements.
First, the chair will recline you back and then arch, stretching out your back and abdominals. In addition, the leg rest may be extended only on the most advanced models.
You will feel a complete stretching sensation, which is when the airbags will kick in and help your muscles to relax and release pressure that has been built up over time.
The extreme recline and stretching function of massage chairs can be combined with many other features of the chair, including auto modes, foot rollers, heating, calf massage, shiatsu, and much more!
The stretching feature is truly one of the most notable features of modern-day massage chairs, a capability that in the past simply didn't exist.
9. Massage Intensity 
Massage intensity is something that's going to be of great importance to you if you have some serious pain in your neck, legs, feet, or your body in general.
If you find that you have intense pain in your neck, for example, you'll be able to get the rollers all the way up and give you a deep tissue massage that can truly help with the pressure that you feel.
A massage chair such as the DR-XR 967 is ideal for this– the massage intensity is great for those of you that like relaxing through deep, intense massages.
On the other hand, if you like a more simple and straightforward massage that doesn't put so much pressure on your body, a chair like the DR-XR 923 or DR-XR 929 will be the option for you.
You will still have all of the great features of the massage recliner, including SL track and foot rollers, heat, auto modes, and so much more– all rolled into one zero gravity massage chair.
One thing to consider about the massage chair intensity is that not all chairs have a lot of controls in terms of intensity. For instance, on an auto program, you may not be able to adjust the intensity at all.
This could be due to the specific settings of the program, or it could be because the chair doesn't offer strength adjustment or advanced dimensional massage.
Adjusting Massage Chair Intensity 
All massage chairs will come with a remote control that allows you to select auto modes, manual functions, and different programs for your massage.
Depending on the brand and the particular model, the control may be different– some chairs come with a handheld remote, and some chairs come with a touchpad control, or a quick panel remote built into the armrest.
In addition, some massage chairs come with voice control, like the Dr.Care DR-XR 923, which is especially convenient when you are relaxing and don't want to move your hands to make adjustments!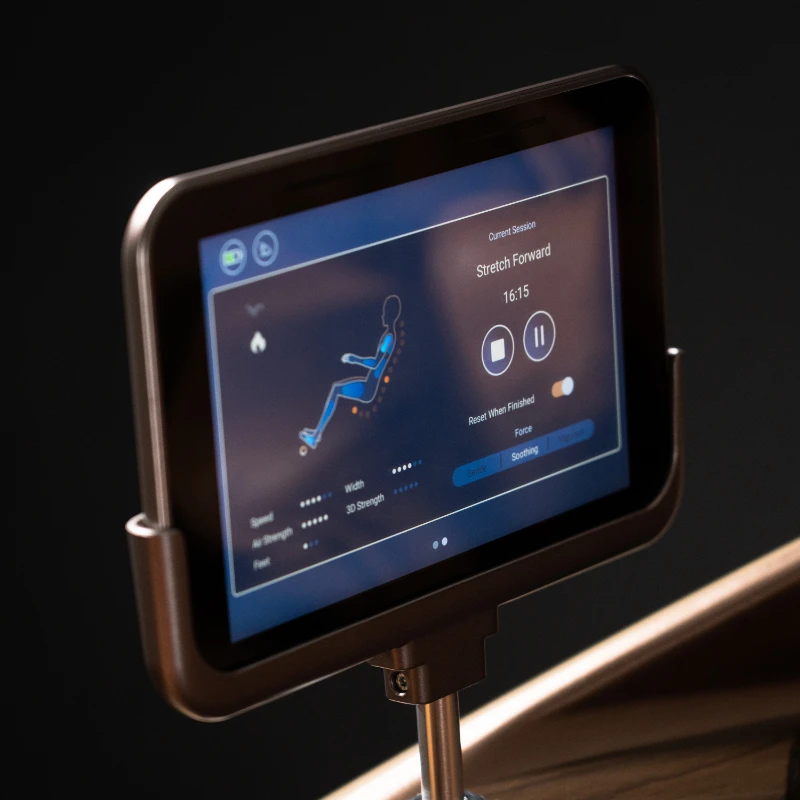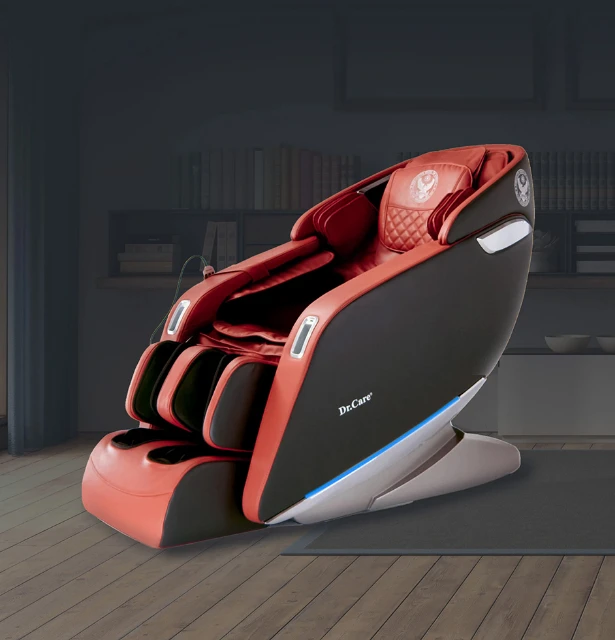 10. Massage Chair Size
Many people still think of a massage chair as a big, bulky piece of furniture. That's not necessarily true, though! You can get massages and relax without having to take up too much space in your home.
Because of the innovative design of massage chairs, you don't need to allocate a ton of space either behind or in front of the wall. Many chairs can perform the stretching functions by swiveling or moving forward and back, which helps to ensure that you are comfortable without using up half of your living room.
Even in a tight space, there are no doubt massage chairs that would be suitable for your living area. Knowing the measurements is also a good thing, that way you can make sure it fits.
11. Massage Chair Upholstery
A truly comfy chair depends on the materials that it's made out of, and that is another facet you should think about before you decide which massage chair to buy.
The best massage chair will include durable materials but also a touch of luxury. You should consider what your preferences are– this is not your everyday office chair that can be made out of the cheapest vinyl!
Remember, your massage chair should last you for many years, so if you have one that's made of high-quality PVC leather, just like many of the most high-end sports cars, or even genuine leather, you will get more bang for your buck.
Chairs such as the real relax may look pretty decent, but the price indicates that the materials going into the chair are of lower quality than others you can find on the market. You should always confirm that the leather will be durable and that your massage chair will stand the test of time.
12. Price
Price can be something that causes stress when looking for a massage chair, as many chairs are more than one might initially think. But keep in mind, with so much advanced technology, you'll be able to get a chair that will recline you, relax you, relieve pressure, heat your body, and so much more!
These are things that weren't even possible with massage chairs in the past, so the price may seem a little bit on the up and up.
On the low end, you can find massage chairs that start at $900 and up. Keep in mind that these chairs are going to be extremely limited in features and will come with minimal quality in terms of rollers, automatic programs, and won't include 4D massage.
The good news is that most of the best massage chairs will come with a financing plan, so you don't have to pay everything in full if you prefer monthly payments! That means you can get a chair that works for you, offering you the relaxing massage that you need on the daily.
For example, you can pay with Dr.Care over up to 36 months– the chair will be delivered to you with just the deposit paid, and over the length of your financing term, you'll enjoy 0% interest and absolutely no fees!
It's easier than ever to get some relief for your muscles, tend to the crick in your neck, and replace your aging recliner with a smart massage chair.
Which Massage Chair Brand is Best?
With so many different massage chair brands to choose from, you might be wondering– which one is best for me?
That's a question that only you can answer. You can try out different massage chairs to get a feel for what you like, and don't forget to ask about the above points on our list!
If you consider these 12 things when looking for your massage chair, you're bound to get exactly what you're looking for.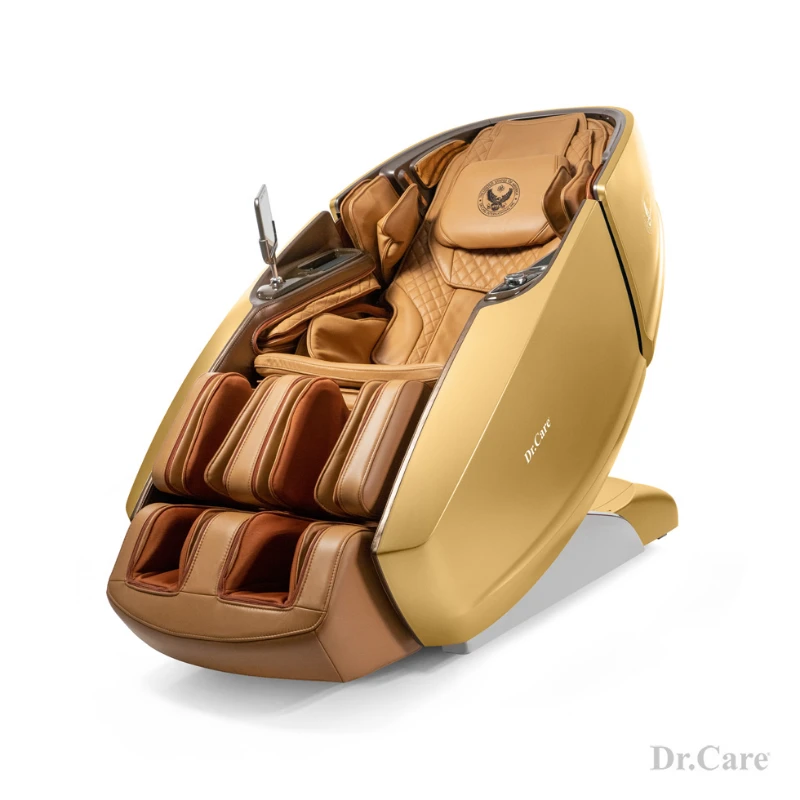 Final Thoughts: Buy the Right Massage Chair for You 
Are you ready for the ultimate at-home massage experience? Dr.Care International has you covered.
With over 10 different models that can suit your every need, Dr.Care massage chairs are rated five stars and will bring you the true relaxation and pain relief that you need, right from your own home.
Whether your household has only one user, or the whole family, you can customize your massage every time with any Dr.Care chair, since each of them include all of the most important features for a great at-home massage.
From spa heating to 6D mechanisms, to an SL track with bluetooth speakers and voice control, Dr.Care has the massage chair for you.