Treat sciatica With a Dr.Care Massage Chair
Many people deal with pain that radiates from their lower back down through their glutes and legs. This uncomfortable common condition is usually referred to as sciatica and involves the sciatic nerve.
Sciatica pain can be very sudden and unpredictable. Many people who suffer from Sciatica turn to medications for help but don't find too much success in long-lasting relief.
The condition can even cause people to avoid activities they love or even activities as simple as walking or standing. Lower back pain can bring your life to a standstill.
We are here to help you live better and share how massage chairs can help with sciatica!
You're in for a treat because one of the best non-invasive treatments for sciatica also happens to be one you can experience in the comfort of your own home.
You can use your home massage chair as a preventative wellness routine, or something for when you start experiencing pain for relief.
But first, let's dive into what sciatica actually is so that you can better understand how treating sciatica with massage chairs can help and provide pain relief.
What is Sciatica?
How does it feel?
Sciatica is the term used to describe the pain felt along the sciatic nerve. The sciatic nerve extends from the lower back, through the hips and buttocks, and down each leg due to pressure on the sciatic nerve.
Sciatica and sciatic pain usually affects one side of your body at a time and can range in severity from mild, moderate or severe.
Additional symptoms also include: tingling, numbness or weakness in the affected leg and foot.
What does it do?
Sciatic nerve pain can put quite the hindrance on everyday activities and even make standing, walking, and sitting very painful.
As an alternative to traditional painkillers, which don't always work very well for nerve-related pain, massage chairs can be able to help treat sciatica.
How does it occur?
Sciatica nerve pain and sciatica can occur when sitting for a prolonged time, standing for long periods, or spontaneous.
Massage Chairs won't cure the underlying cause of your sciatica, which could be the result of injuring or pinching the nerve, or other causes, but they can offer some reliable relief from pain from the comfort of your home and help you treat your sciatica.
Take a look at the potential positive effects of massage chair therapy for sciatica pain and how you can try it for yourself right in the comfort of your own home with a massage chair.
What are the Benefits of Massage for Sciatica?
Massage Chairs are an effective way to alleviate several different types of pain and treat sciatica.
When it comes to treating sciatica, Dr. Care massage chairs can assist with pain management in two ways:
Technology:
With the state of the art technology that mimic human like massage, automatic and manual programs pinpointing areas of pain, compression therapy with airbags along with 3D 4D rollers; the main benefit of a massage therapy from Dr.Care massage chairs are soothing tense muscles and relieving the pressure that is put on surrounding tissues.
The rollers that you can find in massage chairs are unlike anything of the past. They are much more developed and dynamic, including massage functions like kneading, tapping, shiatsu, and many additional functions.
These rollers can provide spinal pain relief caused by disorders in the spine, accidents, or spinal stenosis. Other parts of the body will also get attention, including the leg, arm, neck, nerve roots, and more.
Massage chairs include not only rollers, but also heat technology that helps to relieve lower back pain, increase blood flow, and breathe life into your back muscles for less tightness and more rejuvenation. They are a great way to treat Sciatica in your own home.
How does our technology help treat sciatica?
When your muscles are tense, they squeeze and press down on your nerves, including your sciatic nerve. Massaging these tense muscles can help to minimize pressure on your sciatic nerve, thus assisting with pain relief and sciatic nerve pain.
Automatic programs and manual programs
DrCare automatic and manual programs in the chair can also help relieve pain by encouraging the release of endorphins. Endorphins are hormones associated with feeling good and are natural painkillers. They can help to increase your feeling of well-being.
The types of massage chair techniques and what they do to treat sciatica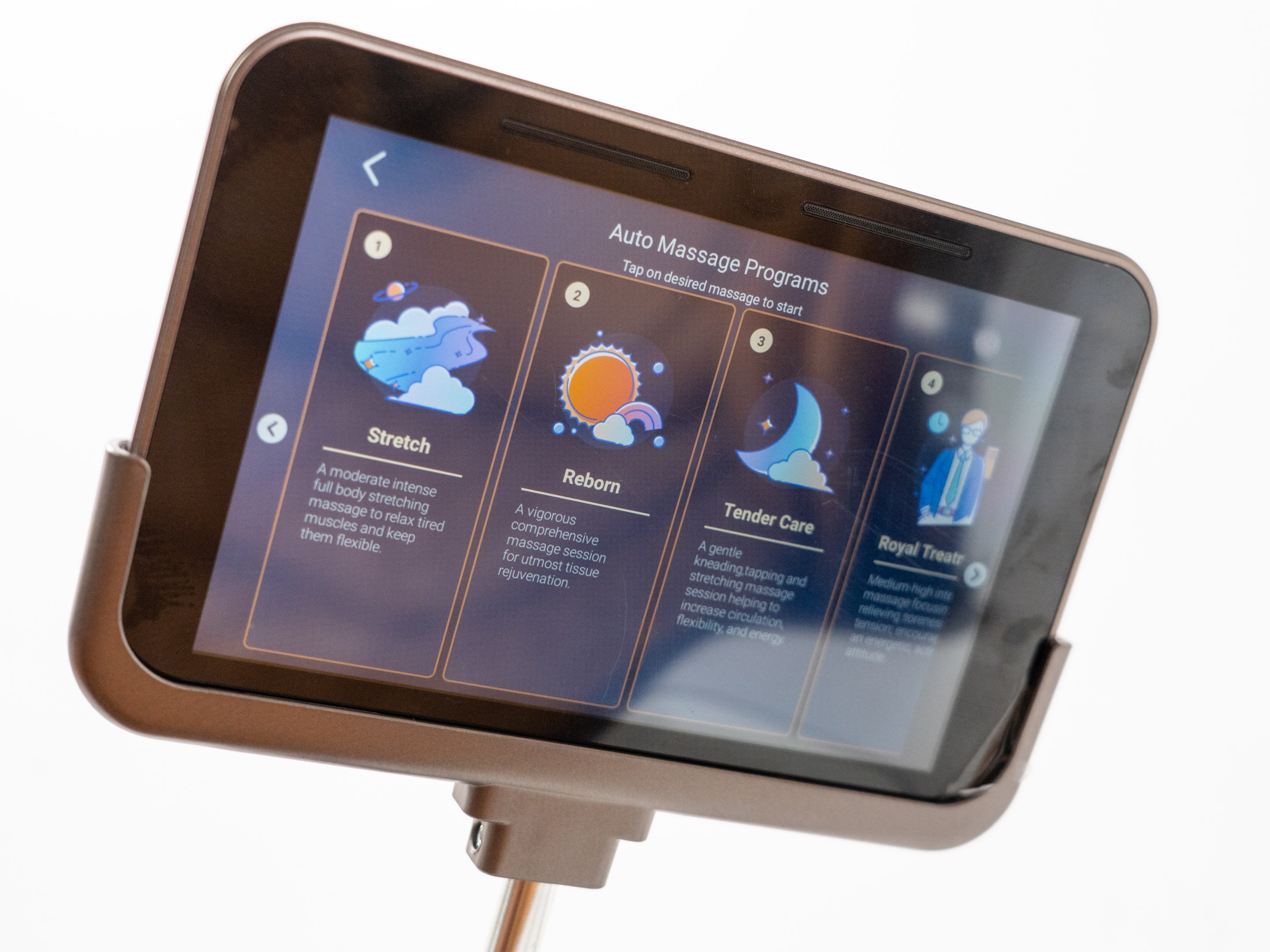 A few examples of massage features included in the Dr.Care massage chair include deep tissue, Shiatsu, yoga stretching, Zero Gravity, Compression therapy, and Reflexology.
Dr.Care massage chairs can bring a number of beneficial effects to these tissues and help relieve sciatica by:
Loosening and relaxing muscles. When the lower back, legs, and gluteal muscles are tense, they can press on the sciatic nerve and roots on either side of your lower back. Muscle Tension can also become knotted up and cause trigger point pain.
Customized massage. Dr.Care's manual massage mode allows you to pinpoint exact areas, customize how much pressure you want, what style of massage you want in that area, apply heat, and more. This can lengthen, loosen, and stretch the affected muscles, which alleviates pain and improves function in your lower back and legs. The zero gravity function also assists programs with special stretching especially for lower back muscles, spine, legs, and more!
Increased circulation of healing nutrients. Soft tissue movement through the various programs can boost circulation by stimulating the blood vessels in your skin and deeper tissues. This helps blood, oxygen, and other nutrients to flow freely to the problem areas in your body, promoting healing.
Endorphin release. Stimulation of specific pressure receptors in your brain by the Dr.Care massage programs can assist in minimizing discomfort by releasing endorphins. Those natural feel-good hormones may be the best kind of painkillers.
Lessening stress. Pressure receptor stimulation also helps to minimize the levels of cortisol in your body. Cortisol, as you may know, is the hormone that causes stress. Lower stress levels help to provide a feeling of relaxation and relief, and this can cause a diminished perception of pain.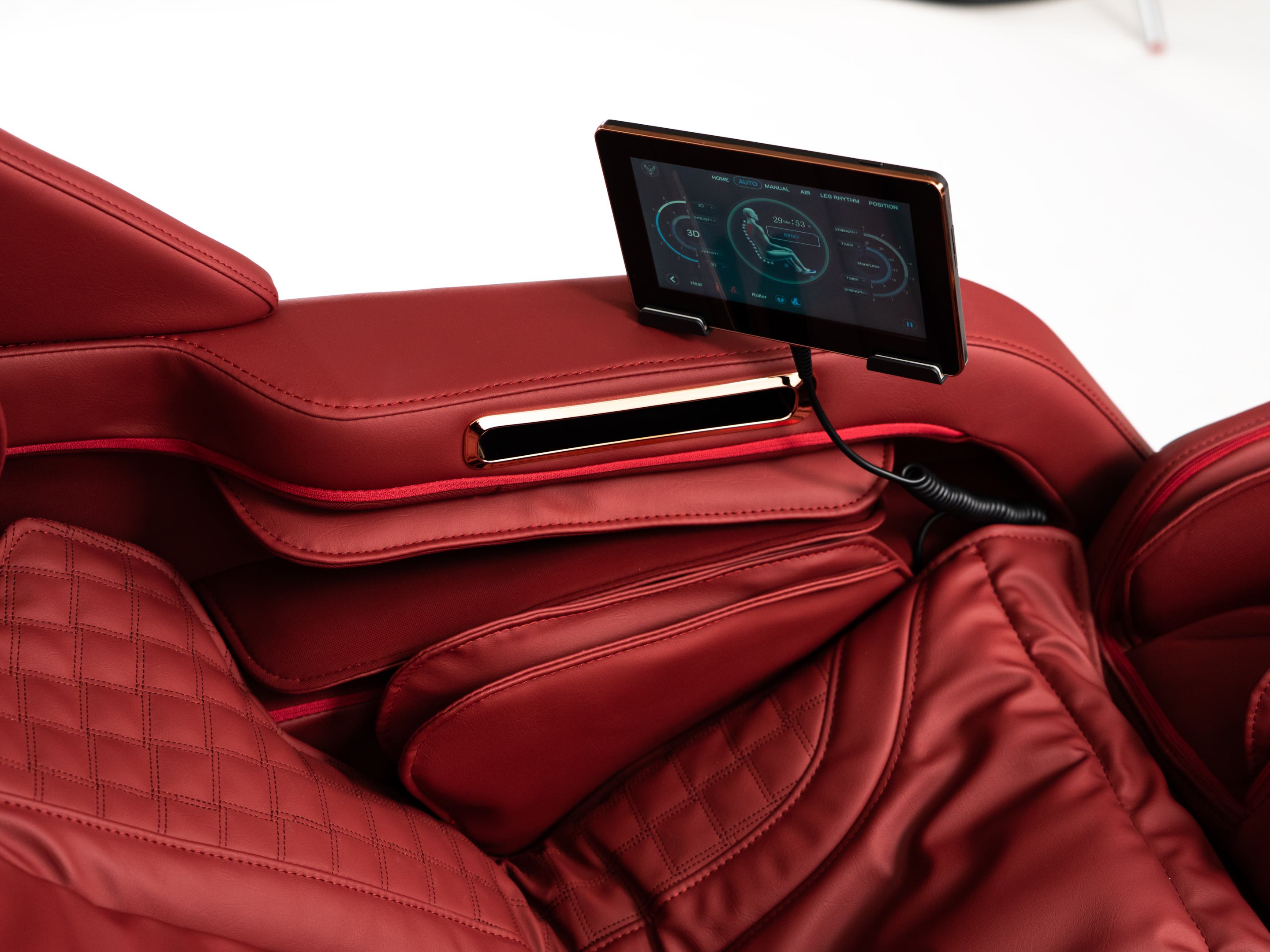 In addition to these physical benefits, the additional features of the massage chair like yoga stretching, spa heating, Bluetooth speakers for sound healing and more can also improve mood and emotional state, which in turn can help you to deal with pain, discomfort, soreness and treating Sciatica.
Relaxation is a powerful thing when it comes to dealing with pain, and it can also help you to sleep better, which of course also helps you to deal with pain as you are well-rested.
There are several things to look for when finding the right massage chair to help you with your pain relief. You can read more about 12 things to look for in a massage chair!
What's the Best Type of Massage for treating Sciatica?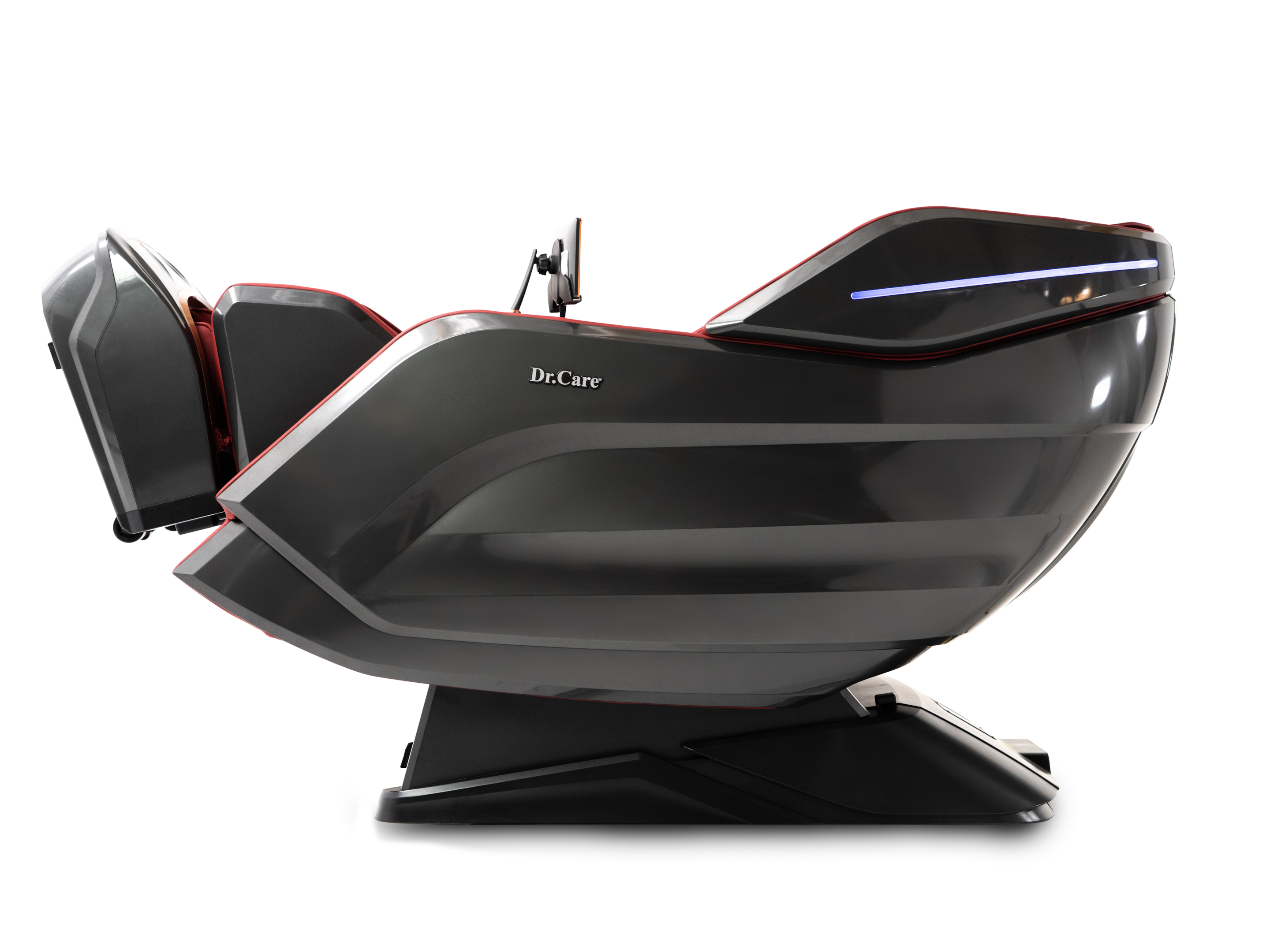 Using a massage chair at home and finding pain relief from the massage experience is quite a relief for many who suffer with sciatica.
There are several massage programs that can be found in one massage chair. It's not to say that one type is more beneficial for sciatica pain than another as they are so tied to personal preference.
Choosing the best massage therapy will vary from person to person and their preferred massage techniques to help relieve their pain while treating Sciatica.
Here's a look at some of the most common types that you'll find in Dr.Care massage chairs.
Deep Tissue massage
Yes it is just what it sounds like. It's a massage that utilizes 3D, 4D, and sometimes 6D technology to work deep to access muscles/tissues further down and not right at the surface.
It uses slow strokes, compression therapy with airbags and deep pressure to release tension from your muscles and connective tissues.
Clinical studies have shown that a 30-minute deep tissue massage session performed five days a week over two weeks was effective for treating lower back pain, including sciatica.
Shiatsu massage
Shiatsu massages typically do not apply as much pressure as deep tissue massage. Instead kneading movements are used to stimulate nerve endings in your connective tissue and increase blood flow.
Additionally this massage program also includes pressing (through full body air bags), tapping, and stretching techniques. It's good for general tension release, relaxation, and to ease overall pain.
Compression Therapy
Compression massage therapy uses advanced air cells placed through the chair to inflate and deflate airbags, acts alone or in assistance with other programs to help in relaxation and pain relief.
These pressurized air bags are often found in the arms, legs, and most importantly in this case, the hip area of the chair.
Myo-fascial release
Myo-fascial release is used to relieve pain that occurs within your myo-fascial tissues, the tough membrane that surrounds and supports your muscles, as a result of trigger points. By Increasing the 3D levels this technology enables you to increase the pressure of how deep the massage can go while releasing tension. Focused pressure and stretching on trigger points can assist to reduce pain and stiffness. To access these points during your Dr.Care massage, you can sit in your chair and focus on a particular area of concern like your lower back where the knot might be pinching your sciatic nerve and causing pain.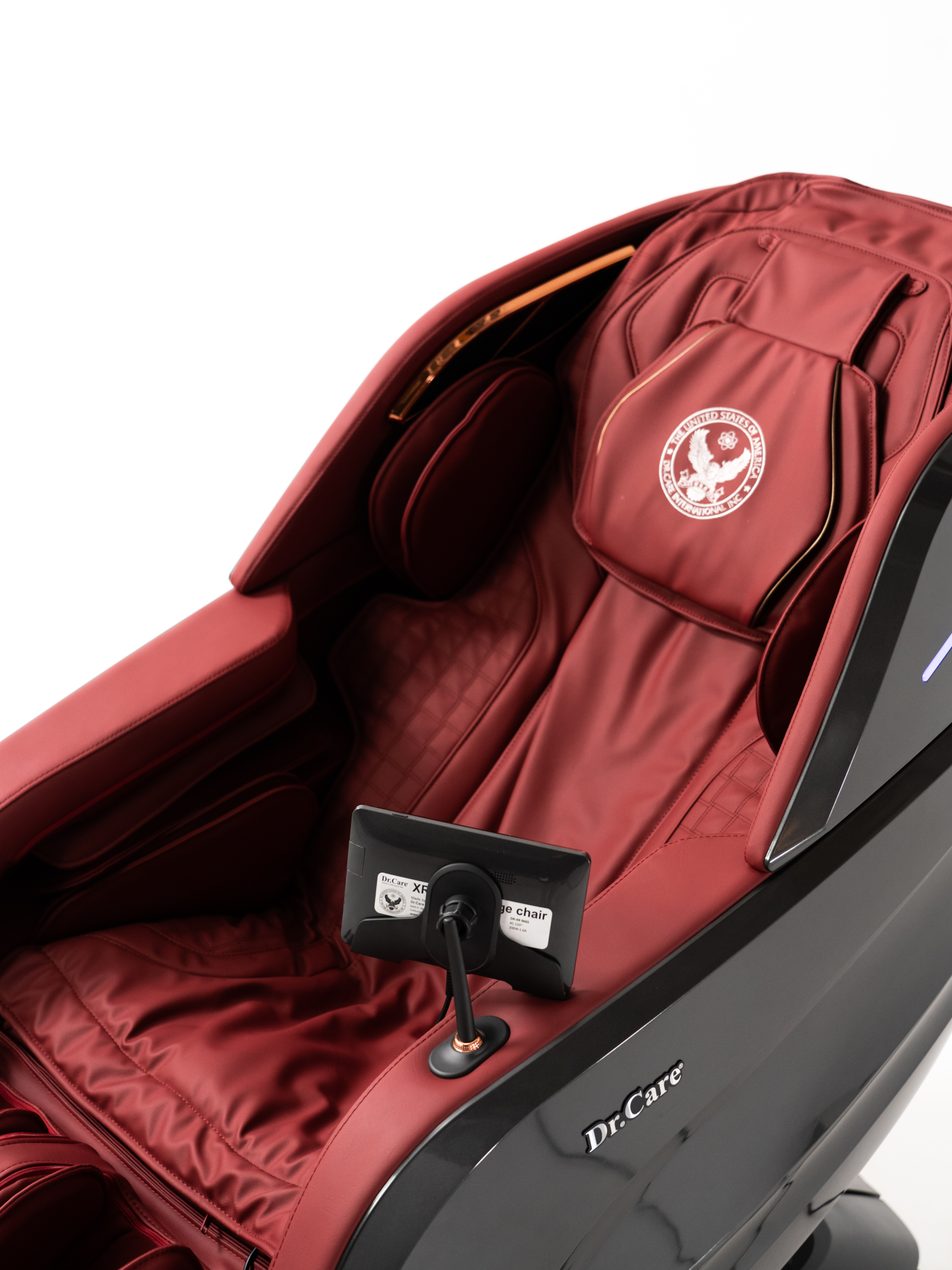 The Bottom Line
Dr.Care Massage chairs can't un-pinch a nerve or stop the underlying cause of your pain, but they can help to relieve your symptoms and increase your quality of life while treating sciatica. As you work with your physician to deal with the underlying cause, our massage chair can be a fantastic way to find everyday relief and help treat sciatica.
Overall it helps in alleviating the pain of sciatica by
Relaxing tight muscles
Increasing circulation
Reducing stress
Create a remedy for you to add to your proactive wellness routine (with or without sciatica)
Massage therapy is a frequently overlooked treatment for sciatic pain, but thanks to the joy of owning a massage chair you can appreciate the many benefits on a regular basis.
If you or someone you love is suffering from sciatica pain, seek help today and consider adding a massage chair into your regimen to target back pain.
Finding the Right Massage Chair
Therapeutic massages are best when you invest in a high-quality massage chair manufactured by a trusted brand that is dedicated to health and wellness. You can enjoy a relaxation massage right in your home when you have one available, but choosing one for you will be based on your specific needs and budget.
Here are 5 standout features to look for when finding your perfect massage chair:
Massage quality
Medical therapy benefits
Materials and equipment
Technology and features
Payment options and warranty
It is also important to consider the following:
Identify your goals. Figure out what you want to achieve prior to beginning your search for a massage chair. For example, if you want to relieve lower back tension, look for an L-Track massage chair that can reach further down your spine to your lower back and glutes. Even better than the L track is the SL-track, which offers a dual massage that will hit back pain and other areas of the body at the same time. Or, if your goal is simply to relax and get a light massage and have a way to unwind, perhaps you want to look for a chair with heat therapy, rollers with many massage styles, or speaker connectivity for meditation and music relaxation.
For people who have difficulty with mobility or driving due to sciatica or other back pain, an in-home massage chair can make even getting a massage possible. Additionally, Dr.Care offers free-shipping within the United states so you are able to purchase and receive your massage chair easily.
Look at the other features available in the chair. Are these things you're interested in? If not, you may be able to look at a less expensive model that can still suit your needs. However, if you want to truly maximize the value you can look into massage chairs that also offer things like Bluetooth speakers, zero-gravity, and charging stations for your smart devices. The great thing is that all chairs on the Dr.Care line come with those as standard features — even our base model!
Finished With Your Research?
You can look into the chairs, techniques, and other advantages of massage in our shop page or homepage on our website, and you'll be able to see the physical features each of the styles offer.
Don't underestimate the power of massage therapy! You don't have to go to the clinic for that– you can treat your sciatica pain with a massage chair right from the comfort of your own home.
If you have any questions or are interested in purchasing your first Dr.Care massage chair, feel free to contact us! You can reach out through email at Ask@drcare.usor give us a call at (213) 995-6658
With all this in mind, don't forget about our financing options.We understand that investing in a massage chair is a big decision, and we want to help make that process as simple and stress-free as possible. Our Care representatives are ready and excited to get you into the perfect chair!
Follow us